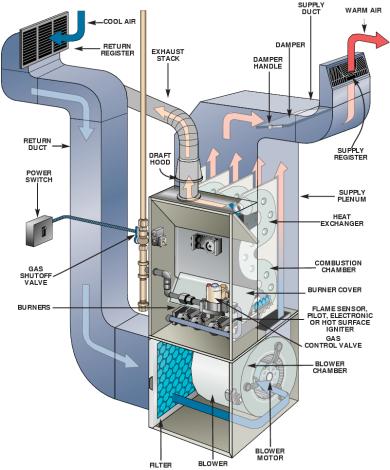 At All American Heating and Cooling, we will determine your heating system requirements and guide you toward the products that will best suit your needs and budget. We will provide you with the options of repair vs replacement. We will always provide upfront pricing so there will be no surprises. We service and install all makes and models.
Our goal is to keep you warm during the winter months and providing you with prompt and professional heating system repair and services when you need us. We repair and replace all brands of residential heating systems.
When Should I Repair or Replace My Heating System?
If your furnace or heat pump is nearing the end of its lifespan, you might want to consider replacement. It's easier and cheaper to replace a furnace during the warmer months than waiting until it breaks down in the winter months.
I can install a new heating system with minimal disruption to your day. Here are some indications that it might be time for heater replacement:
Furnace or heat pump needs frequent repairs
Energy bills are increasing every month
House is dry and dusty in winter
Indoor air temperature does not match the thermostat setting
Some rooms are too cold; other rooms are too hot
Furnace is over 15 years old
Heat pump is over 10 years old
Furnace or heat pump has not been properly maintained
Call today for a free second option if repairing your current system or replacing it is best for you.